Authors of the present issue
N. 48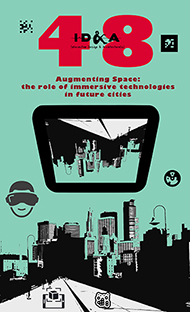 Salvatore Andolina
is an Assistant Professor at University of Palermo, Italy. His research focuses on human-computer interaction, information retrieval, creativity, and ubiquitous computing. Prior to joining University of Palermo he was affiliated with University of Helsinki and Aalto University, as part of the Helsinki Institute for Information Technology HIIT. He has also collaborated with the Human Computer Interaction Institute of Carnegie Mellon University as a visiting research scholar. He is an ACM Senior Member and a SIGCHI Member.


Ross Brown
is an Associate Professor within the School of Computer Science (CS), QUT, where he is a co-director of the CLEVAR research group (www.clevar.org). His main research interests are in immersive technologies, such as virtual reality (VR) and augmented reality (AR). He seeks to understand how immersion and presence influences humans. In short, his research question is: "How can VR or AR environments enhance human cognition?". Experimental results have shown that VR enhances memory recall, he wishes to further explore how these cognitive effects influence human cognition through an embodied cognition lens. Many application domains in the areas of knowledge management, simulation, training, education and gaming will benefit from this work. At present, he is researching the use of such systems in intellectual disability training, business process elicitation, training and modelling, rehabilitation compliance and environmental knowledge elicitation.


Diogo Cabral
holds a PhD in Computer Sciences from NOVA University of Lisbon (Portugal). He is a Research Fellow at ITI/LARSyS, IST, University of Lisbon (Portugal). Previously, he was Assistant Professor at University of Madeira (Portugal) and Postdoctoral Research at University of Helsinki (Finland). In his research, he studies tools that can foster and augment creativity for knowledge workers and artists, crossing the fields of Human-Computer Interaction and Multimedia. His work has been published in top venues, such as ACM CHI, and Multimedia Tools and Applications.


Glenda Amayo Caldwell
is an Associate Professor in Architecture at the Queensland University of Technology.She is an architecture and design scholar with recognised expertise in physical, digital, and robotic fabrication, leading Industry 4.0 innovation through human-centred research in design robotics and media architecture. She is the QUT Design Lab co-leader of the Design Robotics research program and is the author of numerous publications in the areas of media architecture, urban informatics, and design robotics.


Hochul Cho
received his B.S. degree in Computer Science and Engineering from Sejong University, Seoul, South Korea, in 2014. He completed his MS degree in Computer Science from University of Southern California (USC) in 2016. He also worked as a data scientist in Verisk Analytics, USA. Currently, he is working as a researcher in KAIST Augmented Reality Research Center (ARRC), South Korea. His research interests include computer vision, artificial intelligence, deep learning, virtual reality and augmented reality.


Yüksel Demir
studied Architecture in Istanbul Technical University, Faculty of Architecture, got his master's and Ph.D. degrees from ITU Institute of Science & Technology Architectural Design Program. Currently works as a Professor in the ITU Department of Architecture. Served as the head of the department of Fine Arts in ITU. Under his administration, the department opened elective art courses for all engineering students of ITU. He took part in the development process of first-year foundation studio in the ITU Department of Architecture and coordinated the development process of the latest foundation studio (TES) in the faculty of Architecture. Demir worked in Politecnico Di Milano DIAP (now DASTU) as a guest professor, was a visiting professor at Anadolu University, Department of Architecture, and Auburn University CADC. He founded ITU MardINT Interdisciplinary Research and Development Center. Assigned as an advisor to the rector, and worked for the transformation of ITU to a research university. Co-initiated the establishment process of ITU Polar Research Center Polrec. Cooordinated the establishment of the Turkish Antarctic Research Station (2018-2020). He is a co-founder of The Circle Architectural Platform. Managed several urban and Architectural Design projects. His works and interviews were published in several national and international publications; won national and international awards. Currently he continues to work in the fields of Architectural Design, ICT in Design, and Art.


Marcus Foth
is Professor of Urban Informatics in the QUT Design Lab, Creative Industries Faculty at Queensland University of Technology. He is also an Honorary Professor in the School of Communication and Culture at Aarhus University, Denmark. His transdisciplinary work is at the international forefront of human-computer interaction research and development with a focus on smart cities, community engagement, media architecture, internet studies, ubiquitous computing, and sustainability.


Luciano Gamberini
is Full Professor of Work and Organizational Psychology at the Department of General Psychology of the University of Padova, where he also directs the Human Inspired Technology Research Centre and the Human Technology Lab. He holds a degree in General Psychology and a Ph.D. in Experimental Psychology from the University of Padova. He is currently the Rector's Delegate in the Relations with Research Financing Bodies. His teaching and research activity pertains to the areas of work and organizational psychology, ergonomics and human-computer interaction, testified by more than 100 scientific papers (peer-reviewed) and conference presentations, and by the involvement in EU, national and regional projects.


Kavita Gonsalves
is a PhD candidate with the Urban Informatics Research Group at the QUT Design Lab. With a focus on activism and transdisciplinary creative engagement, her PhD research focuses on placemaking by marginalised groups through the use of technology, storytelling and play.

Luke Hespanhol
is an interaction designer, lecturer, researcher, and media artist. His research ranges from creative technologies, digital storytelling, digital placemaking, and technology-mediated social interactions, to urban robotics, media architecture and smart cities. Luke is the Program Director for the Master of Interaction Design and Electronic Arts at The University of Sydney.


Linda Hirsch
is a research assistant at LMU Munich. In her research, she focuses on interaction at public, urban places. Her work includes the exploration of urban materials and the development of design strategies for embedding interfaces outdoors. The main motivation is to find solutions to enrich and revive city history and art.


Marius Hoggenmueller
is a Ph.D. candidate in the Design Lab at The University of Sydney. His work focuses on prototyping and probing urban interactions with robots and autonomous systems, thereby applying Research through Design methods and Media Architecture principles.


Yi-Ta Hsieh
received his Ph.D. from Helsinki Institute for Information Technology HIIT, Department of Computer Science at University of Helsinki. His current research interests include User Experience Design, Human-Computer Interaction, Ubiquitous Computing, Haptics, and Hand Gestural Interaction


Michael Hunter
is a PhD candidate within the School of Computer Science at QUT where he explores how Augmented Reality can be used to engage communities and create dialogue between councils and citizens. Michael looks to novel forms of engagement utilizing emerging technologies and has exhibited works at public science and arts festivals, has featured in Scientific American and Public Management magazine and has published academic works around the development of smart cities. His future research looks at the affordances of AR in urban transformation.


Giulio Jacucci
is a Professor at the Department of Computer Science, University of Helsinki. He has been Professor at the Aalto University, Department of Design 2009-2010. His research field and competencies are in human computer interaction, including multimodal interaction, information retrieval, and behaviour change. He is general chair of IUI 2022, has been subcommittee chair for ACM CHI, and has been program chair for various conferences in HCI. Giulio Jacucci has coordinated national and international project consortia, including three European projects on ubiquitous computing, behaviour change, wellbeing, and information discovery. He is also co-founder of several startups in these areas and author of two patents.


Denis Kalkofen
is currently an assistant professor with the Institute of Computer Graphics and Vision (ICG), Graz University of Technology, Austria. Before joining ICG, he was a member of the Virtual Reality Laboratory at the University of Michigan, Ann Arbor, Michigan. In 2019,he joined the Wearable Computer Laboratory at the University of South Australia, Australia as visiting researcher and the Computational Imaging Laboratory at Stanford University, Stanford, California as visiting assistant professor. His research interests include visual computing for developing visualization, interaction, display and authoring techniques for mixed reality environments.


Ann Morrison
is Associate Professor and Associate Head of School-Research at the School of Future Environments, Auckland University of Technology, New Zealand. With a background as an interactive installation artist and a researcher working with Interaction Design, HCI and Tangible Computing, Ann Morrison is currently working with animals (companion, wild and captive), older adults and urban environments. Her current projects include working developing resilient enrichment solutions for a Platypus at Melbourne Zoo, groups of Chimpanzees and Capuchins at Hamilton Zoo and for endangered marine birds and mammals on the New Zealand coastline.


Antti Nurminen
has worked on computer graphics and virtual environments for over 20 years. He created the first real-time rendered, realistic and scalable mobile 3D city map "m-LOMA" already in 2005, leading to his Ph.D. in 2009. He has later combined this work with augmented reality, supported by field experiments in collaboration with cognitive scientists, holding a Research Fellowship at Aalto University 2015-2020.


Beat Rossmy
is a researcher at LMU Munich, his research focuses on tangible user interfaces and new interaction concepts and materials.His design explorations take place in various domains, such as musical interfaces or human-robot interaction, and focus on integrating reality-based design and interaction patterns into technology.


Dieter Schmalstieg
Schmalstieg is full professor and head of the Institute of Computer Graphics and Vision at Graz University of Technology, Austria. His current research interests are augmented reality, virtual reality, computer graphics, visualization and human-computer interaction. He received Dipl.-Ing. (1993), Dr. techn. (1997) and Habilitation (2001) from Vienna University of Technology. He is author and co-author of over 300 peer-reviewed scientific publications with over 20,000 citations and over twenty best paper awards and nominations. His organizational roles include associate editor in chief of IEEE Transactions on Visualization and Computer Graphics, associate editor of Frontiers in Robotics and AI, member of the steering committee of the IEEE International Symposium on Mixed and Augmented Reality, chair of the EUROGRAPHICS working group on Virtual Environments (1999-2010), key researcher of the K-Plus Competence Center for Virtual Reality and Visualization in Vienna and key researcher of the Know-Center in Graz. In 2002, he received the START career award presented by the Austrian Science Fund. In 2012, he received the IEEE Virtual Reality technical achievement award, and, in 2020, the IEEE ISMAR Career Impact Award. He was elected as Fellow of IEEE, as a member of the Austrian Academy of Sciences and as a member of the Academia Europaea. In 2008, he founded the Christian Doppler Laboratory for Handheld Augmented Reality.


Alessandro Soro
specialises in researching, designing and evaluating novel interactive technologies with special attention to under-served communities of users. In recent work Dr Soro has collaborated with older adults to create technologies to foster engagement and reciprocity in family relations. He has pioneered research on the Social Internet of Things, that seeks to create smart objects, spaces, and environments that foster social engagement and wellbeing for people of all ages. He also researches socialised uses of Augmented Reality to enable new forms of collaborative creativity for everyday users. Dr Soro is also active in research in collaboration in Australian Indigenous communities to create technologies to support culture and language, as well as to devise effective co-design methods that are sensitive to cultural specificity.


Anna Spagnolli
is an Associate Professor at the University of Padova, and a member of the Human Inspired Technology Research Centre at the same university, where she currently leads the Ethics Committee. She holds a master's degree in social psychology and a Ph.D. in Social and Personality Psychology. Her research interests and teaching activity are in the field of human-computer interaction and mediated conversation. She participated in 13 EU-funded projects in the ICT area. She was co-founder and editor-in-chief of PsychNology Journal, one of the first open-access journals in the area of ICT, indexed by PsycInfo and SCOPUS. She is currently an associated editor of Springer's journal Virtual Reality.


Seungyoub Ssin
is currently a senior researcher at KAIST KI-ITC Augmented Reality Research Center (ARRC) and is spending a lot of time on digital twin research that can be applied in augmented cities (smart cities based on Augmented Reality services). His digital twin research begins with his Ph.D. First of all, he received his bachelor's degree in 2005 from Konyang University, majoring in biomedical engineering. After that, he worked as a developer developing biomedical rehabilitation games for about 10 years at various game companies such as Neowiz Co., Ltd., and Webzen Co., Ltd. In 2012, while he was accidentally creating a serious game for dementia patients, he was interested in visualization research based on information. After that, he started his master's degree in game development at Dongguk University in 2013 to specialize in games and research at the same time. While working on augmented reality-related projects at Dongguk University after his master's degree, he thought that augmented reality will be an important solution to solve near future industrial and urban problems. Then, he focused mainly on developing tools for city managers to better understand and use information based on augmented reality and various heterogeneous devices. He received his Ph.D. in late 2018. He is continuing to design and research services for smart cities at KAIST with the belief that digital twins have the power to change the world, and made efforts to develop a system at the level of commercialization.


Martin Tomitsch
is a Professor of Interaction Design and Director of Innovation at the University of Sydney, Visiting Professor at the CAFA Beijing Visual Art Innovation Institute, and founding member of the Media Architecture Institute. His research and teaching areas include interaction design, user experience design and urban interfaces.


Faruk Can Ünal
is an assistant professor at Yeditepe University, Department of Architecture. He graduated from Dokuz Eylül University as an architect (2010) and received his MSc (2013) and PhD (2019) degrees from Istanbul Technical University, Architectural Design Computing Programme. He had been a visiting researcher at Eindhoven University of Technology during his MSc and PhD studies. His research interests focus on computational design, CAD/CAM applications, and augmented reality in architecture. In addition to architectural design, he carries out various design works ranging from industrial design to urban design in different scales.


Brydon Wang
is a lawyer and scholar researching at the confluence of technology, law and architecture. He is passionate about smart cities and has 16 years in the construction industry. Brydon has practised as a technology (TMT/IP) and construction lawyer with Magic Circle firm Allens Linklaters, and currently teaches in the School of Law, Queensland University of Technology. Brydon leads the university's Startup Law Clinic and has recently published an edited collection 'Automating Cities: Design, Construction, Operation and Future Impact' (Springer, 2021).


Alexander Wiethoff
is a senior lecturer at LMU Munich, long term member of the Media Architecture Institute and the Design Director of IMAGO Design GmbH in Munich, Germany. His research goal and effort is to provide humans with easier ways to interact with computers.


Woontack Woo
is a Professor and the head of the Graduate School of Culture Technology (GSCT) at Korea Advanced Institute of Science and Technology (KAIST), Daejeon, Korea. He is the director of both CT Research Institute and KI-ITC Augmented Reality Research Center. He also has been Vice President of the Korea Game Society (since 2020), the Korean Institute of Next Generation Computing (since 2011), the CG&I Society in the Korean Institute of Information Scientists and Engineers (since 2010), the HCI Society of Korea (since 2008), the Korea Computer Graphics Society (since 2008), etc. He received his BS in Electronics Engineering from Kyungpook National University (KNU, Daegu, Korea) in 1989 and his MS in Electronics and Electrical Engineering from Pohang University of Science and Technology (POSTECH, Pohang, Korea) in 1991. In 1998, he received his Ph.D. in Electrical Engineering-Systems from University of Southern California (USC), Los Angeles, CA, USA. In 1999, as an invited Researcher, he joined Advanced Telecommunications Research (ATR), Kyoto, Japan. From Feb. 2001 to Feb. 2012, he served as a Professor in the School of Information and Communications (SIC) and Director of Culture Technology Institute (CTI) at Gwangju Institute of Science and Technology (GIST), Gwangju, Korea. He coined the terminology, "Ubiquitous Virtual Reality (UVR)" and initiated UVR Lab at GIST in 2001. Since then he has developed various augmented reality applications such as "DigiLog Books, DigiLog Miniatures and DogiLog Spaces" and published more than 400 papers in major journals and conferences. The main thrust of his research has been implementing UVR in smart space, which includes Context-aware Augmented Reality, Augmented Human, Augmented City and Augmented Society.