Welcome ...
... to the website of IxD&A
a SCOPUS and ESCI (Emerging Sources Citation Index - Web of Science, Thomson Reuters) indexed Journal !
---

NEWS:
• Since September 2017 IxD&A journal has been included also in the Bibliometriske Forskningsindikator (BFI) of the Danish Research System.
• 2019 Open call: is now on-line -> read the call
Notification with feedback to the proponents: within 30 days from the date of the proposal submission
-> only 3 focus session still available
• SCOPUS coverage of IxD&A has been back-extended till Winter 2012 (Issue N. 13-14)
• Best IxD&A (paper) of the year 2016:
Using Player Type Models for Personalized Game Design – An Empirical Investigation.
by
Marc Busch, Elke Mattheiss, Wolfgang Hochleitner, Christina Hochleitner, Michael Lankes, Peter Fröhlich, Rita Orji and Manfred Tscheligi
(-> Previous IxD&A (paper) of the year)
• 2016 in figures: around 30% acceptance rate for special issues and focus sections, around 10% for regular papers.
-> full stats
• N. 37 will be soon available for reading and downloading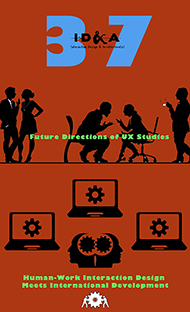 Focus section on 'Future Directions of UX Studies: Learning from Best Practices"
Guest Editors: Anna-Katharina Frison, Florian Lachner, Andreas Riener, Ingrid Pettersson
&
Focus section on 'Human-Work Interaction Design Meets International Development'
Guest Editors: Pedro Campos, Barbara Rita Barricelli, Jose Abdelnour-Nocera
---
Next issues:
• Autumn 2018
'Human Computer Interaction Perspectives on Industry 4.0'
Guest Editors: Mario Aehneit, Ralf Klamma, Viktoria Pammer-Schindler
submission closed -> link to the call
&
'Inquiring the way we inquire'
Guest Editors: Ines Di Loreto and Elena Parmiggiani
submission closed -> link to the call
• Winter 2018
'Smart Learning Ecosystems - technologies, places, and human-centered design'
Guest editors: Antonio Cartelli, Hendrik O. Knoche, Elvira Popescu
submission closed -> link to the call
focus section on:
'Beyond Computers: Wearables, Humans, And Things - WHAT!'
Guest Editors: Gerrit van der Veer, Achim Ebert, Nahum Gershon, Peter Dannenmann
submission closed -> link to the call
---
Open issues:
• Spring 2019
'Intermediate-level knowledge in Child-Computer Interaction'
Guest editors: Olof Torgersson, Eva Eriksson, Wolmet Barendregt, Tilde Bekker
focus section on:
'Games for Urban Sustainability'
Guest Editors: Andrea Vesco, Salvatore Di Dio, Bernat Gaston
• Summer 2019
'Indigenous Knowledge and Practices contributing to new approaches in learning/educational technologies'
Guest Editors: Kasper Rodil, Heike Winschiers-Theophilus, Tutaleni I. Asino, Tariq Zaman
Preliminary communication on further scheduled issues:
• Autumn 2019
'Co-Creation in the Design, Development and Implementation of Technology-Enhanced Learning'
Guest Editors: Panagiotis Antoniou, Sebastian Dennerlein, István Koren, Tamsin Treasure-Jones
• Winter 2019
'Smart Learning Ecosystems - design literacy as cornerstones of smart education'
Guest editors: Stefania Manca, Matthias Rehm, Jelle Saldien, Carlo Giovannella
---
• Citation of papers published on IxD&A
We recommend to use the following citation schemes (to be adapted to the specific Journal format):
Surname1 N1., Surname2 N2., Surname3 N3.: Paper Title, IxD&A Journal, N.23, 2014, pp. 15--30
(if you wish you can use the full name of the Journal, but in this case do not forget to add the short name, as follow: Interaction Design & Architecture(s) - IxD&A Journal)
Submission of regular contributions is always open -> click here
---

IxD&A implements the Gold Open Access (OA) road to its contents with no charge to the authors (submission & paper processing) and implements a veritable 'place' (in contrast to the largely diffused 'electronic no-places') and community trying to balance sense of belonging to a community and promotion of the individuals.

If you wish to help us in improving the quality of the journal, please contribute. Any small contribution will be very much appreciated.
Donations are collected through the no-profit scientific association ASLERD. Information about funds collected and their usage will be published periodically on this website.
Thank you in advance for the support to your journal and your community.
IxD&A fully supports the IEEE Statement on Appropriate Use of Bibliometric Indicators
-> link to the short version
-> link to the full .pdf document

IxD&A Indexing and Stats

o -> Aims, scopes and editorial policy
o -> Topics of Interest
o -> People

IxD&A is also on Linkedin (visit and join the group).